Funding provided by Summit Behavioral Healthcare will support COSF's Case Coordination Services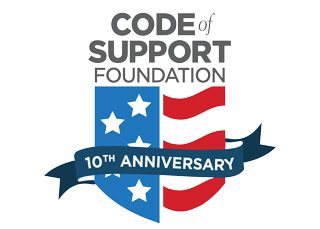 Alexandria, VA – July 19, 2021 – Code of Support Foundation (COSF), a 501(c)(3) organization based in Alexandria, announces a new collaboration with Summit Behavioral Healthcare to further its mission to change lives by connecting veterans, active service members, and their families to available support services.
The organization's relationship with Summit Behavioral Healthcare will expand the opportunities and locations available to veterans for mental health, addiction, and recovery services.
"Code of Support is thrilled to partner with Summit Behavioral Healthcare to assist veterans and service members in the area of mental health issues and addiction recovery," said Kristina Kaufmann, Co-Founder and CEO, Code of Support Foundation. "Both of our organizations share the goal to help those that have served our country get the vital support they deserve through their service and sacrifice."
Founded in 2011, COSF helps veterans navigate and access critical services by providing one-on-one support. Through its digital PATRIOTlink platform and Case Coordination services, COSF connects veterans and caregivers to the people and resources they need to live full, healthy lives. Individualized case management services are provided 100% virtually, fully supporting each veteran and service member's family across multiple areas of need at no cost to the clients served.
Summit Behavioral Healthcare is a leading national provider of behavioral health and addiction treatment services. The company is driven by its commitment to serve, taking great pride in providing a wide range of mental health and addiction recovery services nationwide. The company currently operates 24 facilities nationwide.
"Mental health issues, addiction and PTSD are far too common among our veterans, and Summit Behavioral Healthcare has specialized programs designed for treatment of these issues among veterans," said Brent Turner, CEO of Summit Behavioral Healthcare. "We are excited to work with an organization like Code of Support Foundation because of their dedication to veteran's needs and the thorough support structure they provide for our heroes."
Summit Behavioral Healthcare's programs will be available through COSF services beginning this month.
About Summit BHC
Headquartered in Franklin, Tennessee and founded in 2013, Summit was established to develop and operate a network of leading behavioral health hospitals and addiction treatment centers throughout the country. The Company's primary focus is on the provision of psychiatric services and substance use disorder treatment within a flexible and dynamic continuum of care. The leadership team at Summit is comprised of senior executives with decades of combined experience in the behavioral healthcare industry at the national level. The Company currently owns and operates 24 freestanding facilities nationwide.